Forestville Middle/High School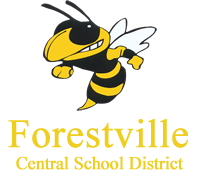 The Proud Home of the Hornets
I wanted to take a moment to introduce myself to you before I started in my new position on Monday, December 3rd. I can't begin to express to all of you how excited I am to be joining such a wonderful school community. I have had a few opportunities to meet and work with a number of Forestville teachers and staff members during my time with Erie 2 BOCES. Each experience has been extremely positive and welcoming... I believe that both experiences say a lot about the faculty and staff of Forestville Central during such a challenging time in education.
Prior to working at Erie 2 as a Staff Development Specialist, I was the Middle School Assistant Principal and Director of Athletics at Dansville Central School. Prior to taking my first Administrative position, I was a Middle and High School Math teacher for seven years at Genesee Valley Central School. I studied K-12 Education with a concentration in Mathematics and was fortunate enough to compete on both the Men's Baseball and Basketball programs at SUNY Fredonia. I graduated High School from Portville Central School. My wife, Nichol, graduated from Otto-Eldred School (just over the PA border). Nichol is a licensed, practicing psychologist who primarily works with children and families in her practice located in Orchard Park. We just recently celebrated our son Liam's fourth birthday last weekend. We also were extremely excited to announce the arrival of our daughter (Evelyn) on the 9th of November!
My short-term goal is to be out in the building and in the District to be as visible as possible. I will be outside as the busses drop students off in the morning, I will be in the hallways as students change classes, I will be in the cafeteria during lunches and in classrooms on a regular basis. My goal during this time will be to take in as much as possible regarding how the MS/HS operates, how the students interact with one another as well as with staff members and to begin to get a better sense of what it means to be a Hornet.

Again, I am so excited to begin our work together and I am very eager to meet all of you over the next few days/weeks. Please stop down to the office or feel free to stop me in the hall to say hello and to introduce yourself.
Thank you for your time and I look forward to meeting you all very soon!

Mr. Moses
Patrick Moses, Principal
4 Academy Street
Forestville, NY 14062
716-965-2711
pmoses@forestville.com
Middle/High School Hours
7:45 a.m. to 2:24 p.m.