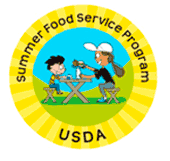 Forestville Central School District
USDA Summer Food Service Program
The Forestville Central School District is eligible to participate in the USDA Summer Food Service Program and will be serving free lunches Monday through Friday from 11:30 a.m. to 1:30 p.m. beginning July 11, 2016 and ending August 19, 2016. All resident and non-resident children 18-years-old and younger are eligible to receive a free lunch.
Lunches will be served in the Forestville High School cafeteria, 4 Academy Street, Forestville, NY. The program regulations state that lunches must be eaten in the cafeteria and no food is allowed to be removed from the cafeteria. Unless a child is registered for the Forestville Village Youth Recreation Program, all children must leave school grounds when they are finished eating their lunch. Adults are not eligible to receive or buy lunch but they are welcome to accompany their child to lunch.
The District receives reimbursement for program expenses through the New York State Education Department Child Nutrition Program Administration. For more information please call Karen Giardina at 965-6530 or June Prince 965-6539.
For a copy of the program poster to view or print, click HERE.
"In accordance with Federal law and U.S. Department of Agriculture policy, this institution is prohibited from discriminating on the basis of race, color, national origin, sex, age, or disability." To file a complaint of discrimination, write USDA, Director, Office of Civil Rights, 1400 Independence Avenue, SW, Washington, D.C. 20250-9410 or call, toll free (866) 632-9992 (Voice). TDD users can contact USDA through local relay or the Federal Relay at (800) 877-8339 (TDD) or (866)377-8642 (relay voice users). USDA is an equal opportunity provider and employer

.